No Content Set
Exception:
Website.Models.ViewModels.Components.General.Banners.BannerComponentVm
Safeguarding client data.
Ogier is committed to protecting and safeguarding our client data in line with industry best practice, international standards and client expectations.
ISO27001 Certified
We have made significant strategic investments over the years into both IT and Information Security Technology to ensure that we have the best platforms to provide appropriate security and risk management of the data we store and process. We also recognise that People and Processes are just as important as the technical controls that we have implemented, so to ensure a holistic approach to information security, Ogier can confirm that we are ISO27001 Certified. This external certification demonstrates we have the necessary policies and controls in place to protect our assets – such as client information, computer systems and our network.
Taking data security seriously
ISO27001 is internationally recognised as the 'Gold Standard' of Information Security frameworks and this certification is a great way for us to demonstrate to our clients and third parties that we take data security seriously. This International Standard defines how we implement and operate controls to safeguard the data and information assets we are responsible for, and passing several rigorous audits provides assurance that we have met the stringent requirements for our certification.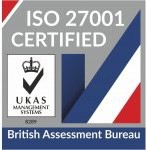 Sign up to receive updates and newsletters from us.
Sign up